I have finished my 3rd paper yesterday. Not in study mood after that.
Chatting with Miss Ivyone through msn. This is the first time i chat with her for so long.
Miss Ivyone
- she is the first friend that i mix with in my class. We used to attend our sport activity together. She is the best groupmate for all the assignments in this 2 years, the most suitable friend that can consult me when im having problems. Whee~ We are getting closer in this 2 months.
Appreciate the friendship. =)
During the chatting, we talked about the
past

.

present

.
future
Something that i realied is Chung Ling Butterworth students are always connected with Jit Sin High School students.
This does happened to my friends and her friends. The world is so small. =D
Felt happy with the chatting. I don't know why. Haha.
Quoted from her :
[
Life is too short, please do love yourself more
]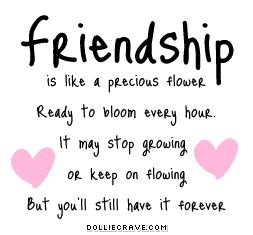 Friendship Quotes
Hopes our friendship will last forever. Take care. ^^